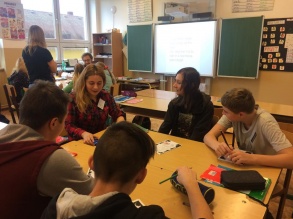 2016-12-20
Gabriela Medwell
Six EVS volunteers from six different EU and non-EU countries started their project only a month ago and are now in a full swing of non formal education activities.
Students of secondary school in Ceska Lipa region have opportunity to talk to them about their x-mas traditions, countries and religion too. Filling in a questionnaire prepared by the volunteers and drawing extra information on large size papers develops not only their linguistic and communication skills but also their creativity.
Often surprised by the fact that not everyone celebrates x-mas, students learn also about cultural differences and last but not the least about the Erasmus+ programme.
Sona from Armenia, Erlinda from Albania, Anastasiia from Ukraine, Nini from Georgia and boys Santi from Spain and Nicola from Italy are for sure developing also their own competences and skills. Different age groups, different level of English and also very different approach, all these bring many challenges to the "six pack".
Back to all news