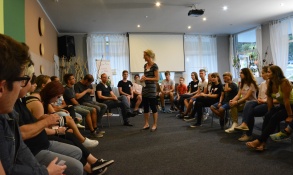 2016-09-12
Gabriela Medwell
Ceska Lipa hosted for a week almost 50 youngsters from 7 european countries. Together they explored active citizenship, in multicultural environment and in English, of course.
The local restaurant Tankovka at Slovanka offered their premises and services for the whole week and so the go-by walkers could hear speaking, singing and laughing from inside.
And so what was the week about?
The project titled Explore Active Citizenship in YOUth focused on raising awareness of the active citizenship aproach, on how to help the community and therefore also contribute to own development.
Youngsters from Atmenia, Georgia, Russia, Lithuania, Poland, Italy and the Czech Republic explored the topic of active citizenship, became for a while voters in election, respresentatives of various NGOs, bulit their team spirit in outdoor games and experienced a lot in many more activities.
In the evenings they learnt about other countries´music, inventors or generally about anything and everything related.
At the end of the week, together with local students of Euroškola, explored the needs of the town in the game mapping the Community Needs and presented to other competing teams their outcomes and findings,
And who were the trainers?
Gabriela Medwell and Pavel Zacek, both enthusiastic about youth work. Lucie Novotna, who managed the acommodation and cathering and few more volunteers including the EVS volunteers all helped to make the project run as smoothly as possible.
We hope the project enriched the experience of all participants, helped them to develop some of their skills and hopefully brough also new friendships.
Photos and commentaries seen on Facebook Youth Exchange EAC Explore Active Citizenship in YOUth
Back to all news