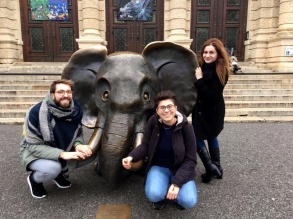 17.04.2017
Nini Marjanishvili
Hello. Today I have interview with Nicola Pacello. He had midterm trainings and I am interested in what he did and what is his feeling after EVS midterm training
Hello Nico, how are you?
Fine, thank you and how are you?
I am fine too. Today I want to listen from you information about midterm. Can I? J
Yes, of course.
Ok. Tell me what is the aims of EVS midterm training?
Our midterm was more meeting than training. It was focused on providing us with space to reflect about our EVS so far and to plan ahead. We had more time to think about our future steps and to think more about what we want from our life.
Where was the location of this midterm training?
It was in Vrchlabi
Ouh, really? It is in mountain. So interesting. Did you enjoy with outside activities?
Yes, of course. The nature is perfect and we tried sledges and I liked it. Yes, maybe it is little a bit dangerous but it was excellent.
What about another volunteers? What they said about their work?
I think mostly we have the same work, like working at schools and spend our time with children. They like us (Me and Nini) and they are going to visit us and spend one weekend with us.
Ok, thank you so much.
Your welcome, Nini.
Zpět na všechny články