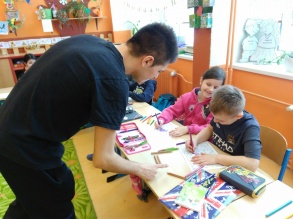 Dear readers,
Today, in our focus is one of the most sportive and hard-working person in our organization. He joined it before 3 months.
I hope you will find it interesting, as it was for me also. He has so many things to share with all of us. Who known, young people out there will read this interview and might think to have the same experience as Santi is having in Ceska Lipa, doing EVS is something amazing.
1- Tell us something about yourself. Who is Santi?
Santi is a 22 years Spanish boy who finished his law degree last year and was looking for a change and next experiences when he started his EVS. He likes running and triathlon and he is very active.
2- Why did you decide to go in Czech Republic?
I decided to do EVS because I needed to change something in my life. In Spain to get a good job is difficult and even I didn't know what a good job is for me, because I'm discovering myself yet. I'd like to find a job in the field of international law or human rights and for that I need to have international experiences and to learn about other countries and cultures without forgetting the importance of improving my English. I didn't choose Czech Republic, I've just wanted to go abroad, for this reason I'd say that she chose me.
3- Can you please share with us your expectation and how do you feel here?
I feel really well here. I think we are a great team and I'm having really good time. I expect to learn a lot. I have learnt already many things in only three months. For example cooking, but anyway I have to improve a lot jajaj. I would lie if I say that one of my expectations is to understand the women, but now that I'm living with two at least I have to be careful. I hope also to learn basics of Czech language. And the most important, I hope to find a job and to stay here at least one more year.
4- So, you love running, will you participate in any competition ?
Yeah, I'm going to run Prague Marathon and for preparing it I will run before a half marathon in March. I'm also enrolled to Ceska Lipa cross race of 15km that will be in October I think.
5- Are you preparing for this marathon and do you have any objective ?
Yes I'm trying to prepare it but I'm finding here the hardest winter of my life, a lot of snow and not too much free time, so I'm training less than I wanted but my aim is yet to finish with less than 3 hours, if I can, with less than 2h 50, but that would be an amazing time and for that I have to train more.
6- How is your day in Ceska Lipa?
I wake up around 7 or a little before, I go to the school or to the office at 8 and I finish around 1 pm. Then we have lunch and we go to the office to prepare activities for the next days or week. In the afternoon normally I run, I go to the gym or to play floor-ball, and I try to find time to study a little bit or to watch a film.
7- Which is one of the most beautiful moments you had till now in Ceska Lipa?
One of the best moments till now could be the first snow of the season, before Christmas. Anastasiia and me were at home and it started to snow a lot so we decided to go out because I hadn't seen snowing from 3 years or more and we went to make a snowman. We went to the square of city centre and we made pictures. The Christmas market was closed so we decided to buy wine in Kaufland and to make our own hot wine homemade. It was a fantastic evening. But we had other good moments and we will have more.
8- Do you have any advice for young people according o EVS?
My only advice for young people in order to EVS is they shouldn't be afraid because maybe they will face a lot of difficulties but also they will enjoy a lot and they will learnt a lot.
THANK YOU SANTI FOR THIS INTERVIEW. I HOPE OUR READERS WILL LIKE IT.
ERLINDA
Zpět na všechny články