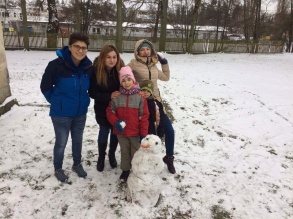 28.01.2017
Anastasiia Rybnikova
The 3rd week of 2017 for EVS-volunteer was first working week in school. Surprisingly for us, even 20 min activity for students needs a lot of preparation, so each afternoon after classes we were working hard. Also, the weather was awful all the week: minus 10 degrees and frozen ice on the roads did not allow us to go somewhere.
Lucky for us, Česká Lípa can propose you a lot of entertainments: bars, restaurants, concerts, clubs, gyms, swimming pool etc. Of course after noisy classes we prefer to relax in bars and jacuzzi in the swimming pool.
What more helps us to refresh? Hobbies! For example, we are baking pies with Nicola, Santi runs, Nini goes to the gym. In the evenings of these frozen days we prefer to watch nice movies and to enjoy lazy everyday life of small town Česká Lípa. We still have 9 months to travel, explore and enjoy!
Zpět na všechny články