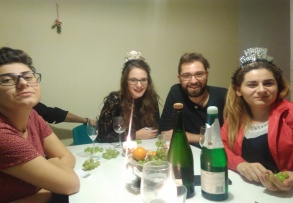 New Year's Eve is a day of mixed feelings for many people,it is a time to celebrate the end of the year gone by and welcome what is in store in the New Year. For me it is very special day and I used to celebrate it with my family but this year I celebrated it with other volunteers and also with previous Evs volunteers in Ceska Lipa.
First we decided to cook some dishes then,at 9 o'clock, the party has started. We had champagne, beer, wine and defferent party food.It was interesting day and as we had different New Year traditions I learn a lot of new things, for example in Italy the star of the dinner is lentils, symbolizing money and good fortune for the coming year and at 12 o'clock you need to eat a lot of lentils if you want to have a lot of money for the coming year, so I ate more then other hope it will work :).
After the dinner we decided to go club and we danced their till 5 o'clock.We were tired but happy!
Zpět na všechny články