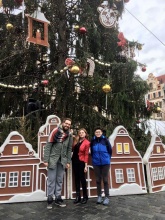 Hello readers…Today I have a very special guest joining me ..Whoa…Please welcome Nini Marjanishvili,one of the Evs volunteer in Ceska Lipa..
Hello Nini,can I give you some question?
-Yes, of course.
Nini tell us about yourself?
-Hello, I am nini, From Georgia. Now I am in Czech Republic and I am EVS volunteer. I feel happy
What is your first impression of Czech Republic and would you come back again?
-I don`t remember well . but firstly, I like the nature of Czech republic and Armenian girl who lives with me.
Maybe yes, maybe no .
Describe you life in Ceska lipa…
-I am so happy. I love my flatmates . yes, from the beginning it`s very difficult to live with others, who have different culture, language… our communication is really strange, because we don`t know English well, but I am sure everything will be ok after month and we can understand everything J
By participating in this project,what will be the benefit for you ?
-Improving my English and living with another persons and to know their cultures. And also traveling...
What advice would you give those young people who want to particape EVS?
Don't live with Armenian girl J it`s joke…

EVS is really good way to improve your skills and be successful in the future.
Zpět na všechny články